The end of an era is here, and AT&T is discontinuing the AFL, All For Less®, local business contract telephone plan. So, what does this mean for businesses?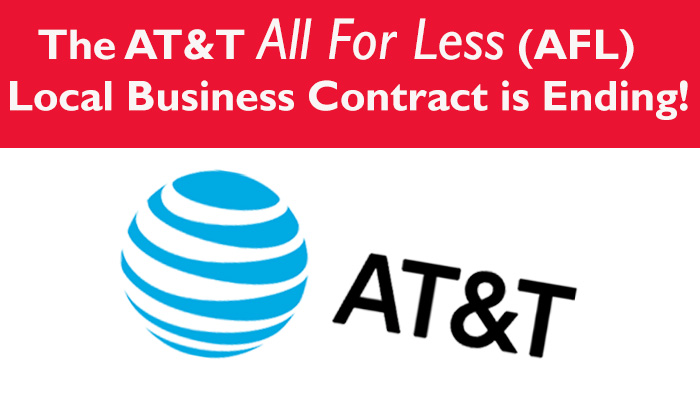 This plan has to do with the POTS lines, Plain Old Telephone lines. You know—the way telephone calls used to be handled before cell phones.
Many companies still use this type of phone line. My dentist office still had them as of last year before I switched them over to VOIP, Voice Over IP, making phone calls over the internet.
These phones and their copper lines, are an aging infrastructure system. At some point, aging systems need extensive repair, and AT&T is discontinuing them rather than investing in an aging infrastructure system.
The AFL plan gave customers who went through the agony of negotiating their new rate for the year at a cost of 40.00/ per line. Now, after June 1st, 2022…the AFL is going to disappear completely—leaving consumers to pay what AT&T calls a 'rack rate' per phone line. This means no negotiation for the consumer and a much higher cost per phone line.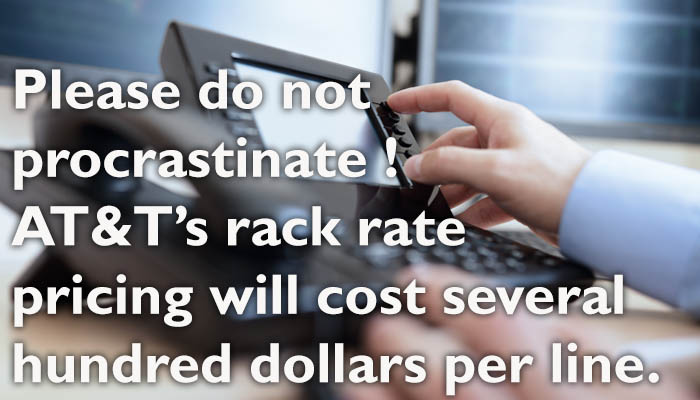 This is what Tom Bicek, had to say at bicektelecom.com.
The AT&T All For Less® (AFL) local contract will no longer be available for new orders on 6/1/22 for Business Local Calling and Long Distance. The existing base of customers on AFL discounted pricing will be grandfathered and remain on their current price plan until the end of their term/contract.

What this means to your business…

If you have an AT&T All For Less® local contract (basically if you have three services with AT&T you can get this contract for your business phone lines for a reduced rate of $40.00 per line), you will not be able to get this contract after June 1, 2022 when your contract expires; however, there are options.

Please do not procrastinate as AT&T rack rate pricing will cost several hundred dollars per line.

https://www.bicektelecom.com/newsblog
Yes, that is right—several hundred dollars per line. So, why are they doing this? Well, they want very badly to close up these costly POTS lines and let them go dark forever, and the best way to do that is to raise the price.
June 1, 2022 is going to be a very bad day for many businesses. Just imagine the conversations on that day!
AT&T will make an initial killing selling people these lines at highly inflated rate and they will also archive the goal more quickly of making the POTS lines go dark because people are not going to pay hundreds of dollars more for something they paid $40.00 just a few months ago.
So, if you are a small business, please take this warning to heart. It's going to happen. Take the time to investigate what you can do.
Contact Tom—go to his website and talk to him about options NOW, before the real trouble starts and you have no options at renew time.