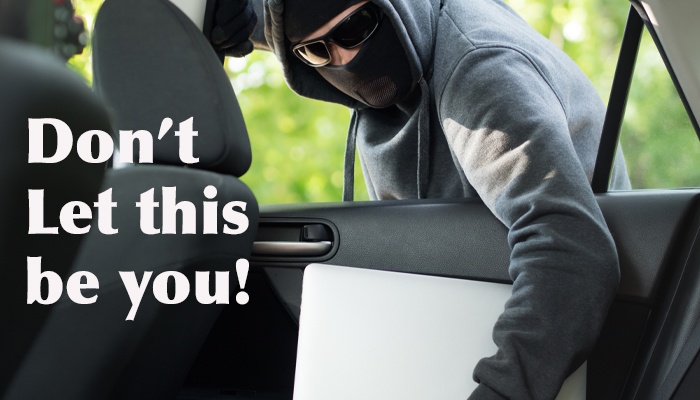 This is What Happened to One of My Customers Last Week
My customer, featured in this blog, is a landscaper. The owner had the company laptop in his truck along with some light tools and various hand tools.
The laptop was off and under a blanket in the front seat of the truck. He was getting out of the truck when he got a call on his phone and was distracted from what he was doing. He went into a corporate office to pick up his check to pay his crew, and he forgot to lock the truck.
When he got back to the truck, he found the laptop missing plus some of his tools. The laptop had his QuickBooks and some other important data—and it was all in the space of 15 minutes.
My heart sank when he told me about what happened. The hardware can be replaced, but the data—that is another story. I had his backup, and I could restore him—no issue, but the laptop was NOT encrypted and his data is now exposed.
I know you're asking, "Why didn't you have encryption on it." He did not want to buy it, and he thought he was ok without encryption. Believe me, I went through all the different scenarios of what could happen.
If he had encryption, all the bad guys would have gotten is NOTHING, because all the contents of the hard drive are encrypted at shut down. So, even if you take the drive out and put it in a drive bay dock the bad guys will get NOTHING.
This software also has the capability of remote lockout. Let's just say you have a terminated remote employee. The company cuts the VPN access, but not the local log in. With this software, a remote command can be given to reboot the computer to wipe it, or change the encryption password.
I'm not trying to make a dime off somebody else's trouble, this is really a cautionary story. If you don't use my encryption product please use Bit locker in the Microsoft OS. Please do something to protect you and your data.
My customer is going to spend hours calling the banks and his credit card company cancelling cards / accounts, waiting for new cards, watching his credit report, etc. Arnold Consulting sells the Full Desktop Encryption for $52.50 per year and we support it.