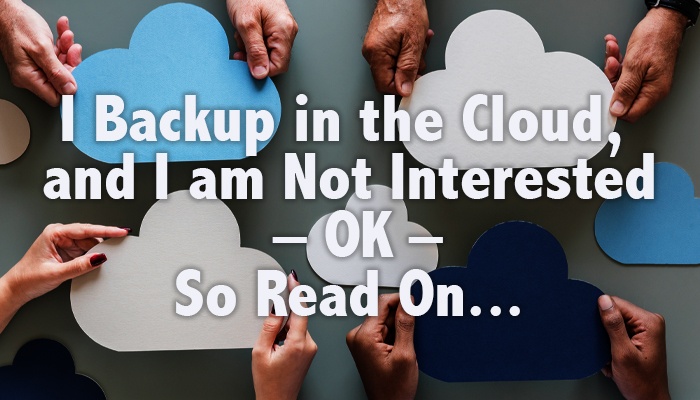 I backup in the Cloud, and I am Not Interested in Arnold Consulting's back-up and disaster recovery plan – Not so fast!
I stumbled on this when doing some research on another issue.  I hear this many times, as a sales objection. "I'm backed up in the Cloud." Well, not really.  What you have in the Cloud is another copy of your data, which is good, but Microsoft is not backing up your data. I have below a URL and two quotes from the Microsoft Service Agreement page. 
Please don't get the ideas of data storage and data back-up confused. There are two copies of the data, one in the Microsoft Data center and one local on the computer.  What happens to all the data if a hacker got into Microsoft and was able to delete the data held and synced by OneDrive?  Because OneDrive, is a bidirectional synch, I believe that data would be gone off OneDrive, and off your PC!
Please make sure you read the Cloud agreements. These quotes are pulled off Microsoft Service Agreement Page, and Microsoft is saying that you should have a third party backup service. Remember, this is bidirectional sync—what happens one place happens at the other and vice versa. 
https://www.microsoft.com/en-us/servicesagreement
Service Availability
"We strive to keep the Services up and running; however, all online services suffer occasional disruptions and outages, and Microsoft is not liable for any disruption or loss you may suffer as a result. In the event of an outage, you may not be able to retrieve Your Content or Data that you've stored.

We recommend that you regularly backup Your Content and Data that you store on the Services or store using Third-Party Apps and Services."
Closing your Microsoft Account 
If your Microsoft account is closed (whether by you or us), a few things happen. First, you're right to use the Microsoft account to access the Services stops immediately. Second, we'll delete Data or Your Content associated with your Microsoft account or will otherwise disassociate it from you and your Microsoft account (unless we are required by law to keep it, return it, or transfer it to you or a third party identified by you). You should have a regular backup plan as Microsoft won't be able to retrieve Your Content or Data once your account is closed. Third, you may lose access to products you've acquired.
The bottom line is Microsoft does not backup your data, but I will.  
Call us and we will help you develop a back-up plan and a disaster recovery plan in the case the unthinkable happens.
Rick Arnold – Arnold Consulting