About a year ago, I wrote an article titled What's Your Email Address? In the article, I talked about businesses that start out small and use their ISP's free email address to run their business on, and they do that for many years and it works fine.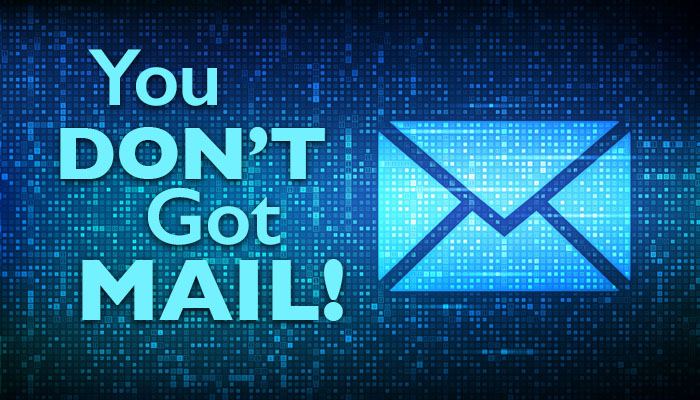 The problem:
So, it's just not businesses that use these free ISP emails a lot of people do as well. So, what happens when you move to a different provider does your old email address still remain active or does it go away? Well, here is the answer to that in the tales of three emails.
Customer A:
Customer A had an AT&T consumer account for many years and switched to Comcast at some point, but still continued to use AT&T email. About a month ago, he started having password issues. We sat on the phone and waited for AT&T for about an hour and a half. When AT&T came on the phone, they tried to verify account information, however there was no account to verify and the rep said sorry and hung up the phone.
The customer was using windows mail program, and come to find out Windows mail does not really store anything but meta information about mail items. Customer A lost all of his mail and contacts with no way to bring them back.
His email account still worked, but he could not get into it. He was not paying AT&T for any services. No Services—No Account—The email address he was using for many years gone along with pictures, receipts, and other contact information, just gone.
Customer B:
Customer B had a business account for many years with AT&T. Arnold Consulting switched their old DSL AT&T account over to fiber AT&T with VOIP phone, using their shiny new high-speed fiber, provided by AT&T, into their office.
The owners wanted to make sure that their AT&T email address would remain intact, and I was assured many times through the fiber acquisition process retaining the addresses were not a problem.
A couple of years after the switch, one of the owners, now retired was having an issue with AT&T email. I was on the phone with the customer and AT&T. AT&T could not find their account email.
So, in this case customer bought a more expensive product, old DSL account was canceled, and apparently so went their email address. Customer B lost all his mail and contacts.
The email address he was using for many years gone along with pictures, receipts, and other contact information, just gone.
Customer C:
Customer C had the same kind of install as Customer B, and when I saw what happened to customer B, I called Customer C and explained exactly what happened. Customer C being proactive, setup a domain name with GoDaddy and an E1 hosted office 365 Exchange plan.
Because he did this while he still had access to his AT&T email, he could transfer all his contacts and his mail from AT&T into his new hosted Exchange plan. His hosted E1 plan is about $60.00 per year and his domain name was about $180.00 for ten years. An E1 Hosted Exchange is just Microsoft Exchange no apps go with it.
The email address he was using for many years along with pictures, receipts, and other contact information, was transferred to Hosted Exchange with his new email domain—which he will have as long as he pays for it.
Moral of the story: companies are not immortal
There are some companies I thought would be around forever, but are now gone. Not so with your email address. Your domain email address could live forever as long as the internet is working, and the domain name is being paid, renewed.
Gmail, Microsoft, SBC etc. Big names, but will they be around in the next 5, 10, 15, 20 years? You might be saying to yourself— who cares—but, if you are on the receiving end of not being able to get into your mail that has pictures, receipts, contacts, or bills—well that's a different story isn't it?
Your email address is based off your domain name, and it's yours as long as you pay for it. The second lesson is use Microsoft Outlook. Customer A & B were cost conscious, and didn't want to pay for an extra program for email. However, if they had, instead of using inexpensive alternatives, they would have still have had a copy of their mail.
Customer A was using the built in Microsoft mail program, and it only housed metadata—nothing real, and he lost it all. Customer B only used the web version for AT&T mail, and again he lost it all.
PST and OST file repositories:
Microsoft Outlook keeps a copy of all mail and mail folders housed off the inbox in something called a .PST or an .OST file depending on what flavor of hosted mail you are using. These files in the hands of a professional can be used to restore the mail.
So, if customer A and B were using Outlook this would have been a very different story—mail not just gone, but restorable.
Customer C:
Remember customer C? They called last week, and their second house got hit with a weather event, and now the internet is not serviceable. The house had big box cable company, and the owner called the cable company to get disaster dispensation, and in doing so, the cable company killed their email address. They were getting no mail through big box cable company. It took my customer many hours on the phone and through email trying to sort it out.
That is correct—I said email. Customer C was using his new email domain address, not tied to the ISP to communicate with big box cable company to fix the ISP owned email address after it apparently was deleted? This really happened, you can't make this stuff up.
Conclusion:
If you have an ISP email address you have been using for years consider, buying a domain name and a hosted exchange plan. If you do it now, and switch your emails over, it will save you tons of aggravation and hours of lost time in calls to your provider to straighten out email issues.
In the case of customer, A, B, and C, they make one call and that is to Arnold Consulting. All they need to do is tell us what's going on and we will fix the rest.
No lengthy time in a call que hearing the same agonizing music over and over again, and then only to have to explain the problem again after being transferred to the wrong department.
Here at Arnold Consulting we speak in plain and easy to understand language, call at 847-464-5855 and let's talk about how to fix the mail problem!